How is Marijuana Being Used for Pets?
Marijuana has been around for centuries, and during that time, it has been effectively used to treat a wide variety of different ailments. In this part of the world, marijuana fell foul of the lawmakers, and ended up being lumped in with hardcore drugs that have zero medicinal use. The tide is turning, though, and a growing number of states are legalizing marijuana for medical use, with some even giving the green light to recreational use. More and more people are discovering the amazing health benefits of marijuana, and those same benefits are now proving to work in household pets, too.
Before you get carried away and start blowing smoke in the face of your pooch, we should do a little bit of clearing up about what marijuana for your pets actually means. The products that are made for the animals in your life are made from hemp, which has a higher CBD content than the stuff that you put in your vaporizer or bong. Since it is CBD that is mostly responsible for all the health benefits you are hearing about, it makes sense that this would be the way to go for pets. There are also a lot of two-legged folks using CBD oil in place of marijuana for all that ails them, as the lack of THC means no accompanying high.
As you might expect, marijuana for pets is delivered in edible form, with tasty treats and edible oils being the most common way to administer this alternative form of treatment. There is a connection between humans and pets when it comes to CBD, and that is that it is proving to be effective in very similar ailments. Many of the pet owners who swear by this form of treatment have done so after seeing how well their beloved pets reacted while suffering from arthritis, cancer, and other ailments where pain was becoming a real issue.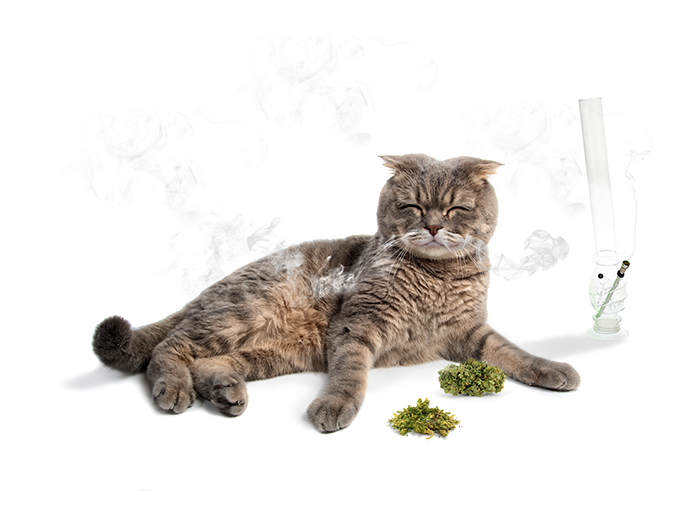 That is just scratching the surface of the ailments in pets that can be treated with marijuana. Research has proven it to be effective with digestive issues, recovery from sprains and broken bones, and also for reducing stress and pain during pot-operative care, to name but a few. Pet owners with aging animals are also finding it to be effective in extending the quality of life in their older pets. Being relatively pain and stress free make those older animals feel a little younger again, and their behavior reflects those feelings.
There are sure to still be some pet owners out there who are worried that using marijuana with their pets may have some adverse effects, but it is simply not the case. There have been studies done on the subject, not to mention countless pet owner testimonials, almost all of which are on the positive side of the argument. If you want to ease the pain and suffering of your pet, and you have seen other treatments fail, now may well be the time to take a more natural approach to treatment.