How Pairing Yoga, Cannabis, and Music Creates Positive Vibrations
Troubled by messy emotions and lacking inner self-peace, people turn to yoga or drugs that help them earn back some peace of mind and body, leaving them to feel the serenity of the new found peace.
One of the drugs that have a similar effect is cannabis. It is not something new. This herb has existed since the ancient times and has been paired with yoga even before the religion, Christianity, came into being. It has been used since then and is known to have many medicinally beneficial properties. For example, it is necessary for people suffering from an illness like arthritis, sclerosis, depression and insomnia, to use this herb in order to follow through their yoga routine. Others just pair it with yoga to have a deeper experience and to find their inner self. It is an easy option, seeing how it cuts down the pain and discomfort that you might have been initially feeling while doing yoga separately - without having it paired with the cannabis. Thus, it makes imitating more poses possible.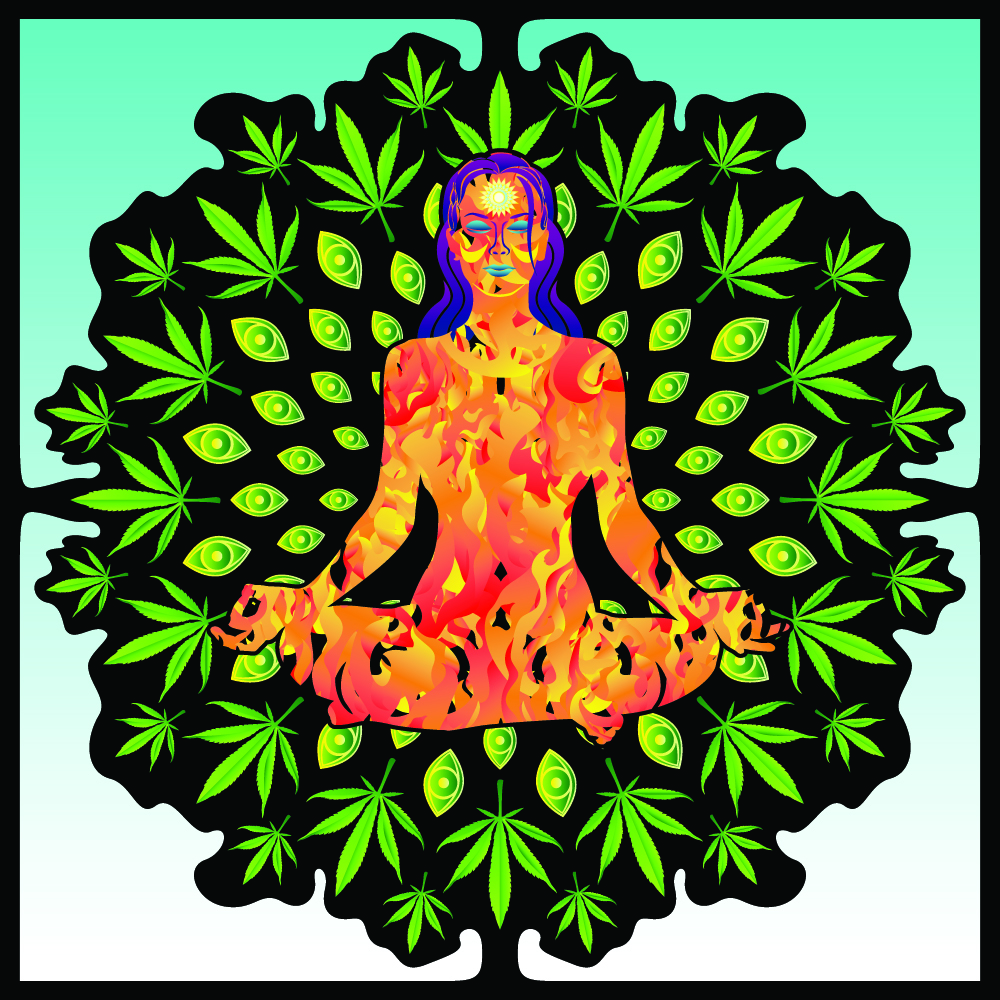 Yoga's primary reason is to make one person become spiritually aware, more relaxed and become more capable of finding their inner self. With cannabis, the mind is stilled, allowing you to focus on things properly without getting distracted; it increases their relaxation level of the both, the body and the mind – partially because this herb reduces brain activity – and allows the body to become connected to the mind in solidarity. This ensures a stronger sense of awareness of oneself in the yoga session and more peaceful inner nature of a person.
Yoga, as mentioned before, is an ancient practice that is very popular. It has rules, also known sutras, on five things that lift the veil of the consciousness from the mind and herbs is one of them. It can be reasonably debated that cannabis is one of them; however, yoga is all about mastering your own self without any assistance, shortcuts or alternatives and cannabis is one way to make things easier. This approach makes you dependent on cannabis to dull the pain. Yet, the benefits of cannabis outweigh its disadvantages.
Yoga has also been paired with music and has produced some aspiring results. Music proves our divinity and holds the special trait to envelop us in a bubble of tranquility and enrichment. It is unbelievable to hear somebody say that music has never lifted their mood at least once in their lifetime. Historically, music has taken birth from devotional practices in cultures throughout the world. The word 'Om' has been chanted and shared for the past 4000 years while practicing yoga and is believed to be the first sound to be found in all of the creation. Music and yoga both provide healing and therapy for undefined and most often unseen ailments. So it proves that bringing these two therapies together, even along cannabis or not, has the potential of creating a pretty powerful experience.