Pro-Cannabis Politicians in the United States
The restless fight for legalizing cannabis in the United States continues, this time with a highly valuable support coming from high-profile politicians that agree with potential reforms.
It's clear that pro-cannabis activists and organizations like NORML or the United States Marijuana Party are facing a massive challenge with the Trump Administration and its conservative essence. Nevertheless, great things can be accomplished if the public support continues to grow.
In the following lines, we will give a special mention to those politicians that, in one way or another, have shown a pro-cannabis stance in recent years.
Pro-Cannabis Politicians According to NORML
The National Organization for the Reform of Marijuana Laws, also known as NORML, is a well-known non-profit organization that focuses on the legalization of the non-medical use of cannabis in the United States. This organization has been around for a while, operating since 1970, and one of its main activities has been highlighting those politicians who have a pro-cannabis stance.
In 2016, NORML released a report where they rated the representatives and senators based on their cannabis stance. The results showed how 22 politicians from the US Senate and the US House of Representatives are openly supporting the legalization of non-medical marijuana use and pushing forward the deregulations.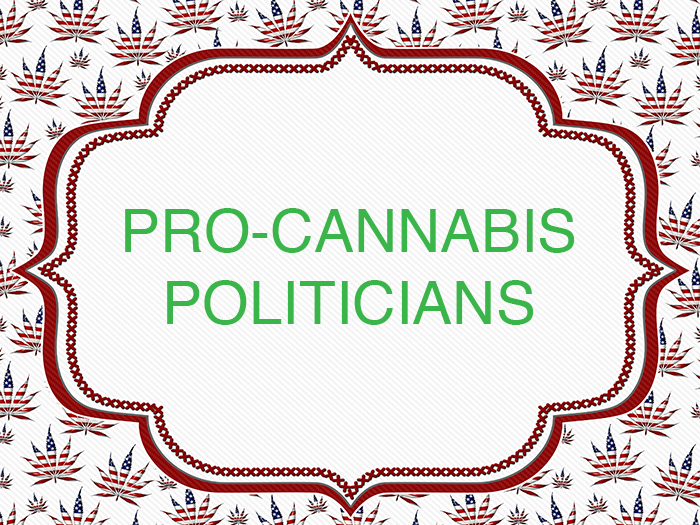 Here is the list of the A-rated representatives and senators in the NORML's report:
Mike Honda, D-California
Jared Huffman, D-California
Barbara Lee, D-California
Ted Lieu, D-California
Zoe Lofgren, D-California
Alan Lowenthal, D-California
Dana Rohrabacher, R-California
Eric Swalwell, D-California
Ed Perlmutter, D-Colorado
Jared Polis, D-Colorado
Eleanor Holmes Norton, D-District of Columbia
Ruben Gallego, D-Illinois
Jan Schakowsky, D-Illinois
Chellie Pingree, D-Maine
Mike Capuano, D-Massachusetts
Jerrold Nadler, D-New York
Earl Blumenauer, D-Oregon
Jeff Merkley, D-Oregon
Steve Cohen, D-Tennessee
Don Beyer, D-Virginia
Bernie Sanders, I-Vermont
Mark Pocan, D-Wisconsin
To get considered as pro-cannabis politicians, isolated comments about the matter weren't enough. These politicians declared themselves in favor of the recreative use of this plant, also supporting civil initiatives.
Other Pro-Cannabis Politicians in the US
Even when they aren't an active part of today's US politics, Former Presidents' stances regarding cannabis are relevant insights about the direction that parties may take in the future.
Former President Barack Obama, for instance, declared during a recent interview with Rolling Stone magazine that marijuana should receive the same treatment as alcohol and cigarettes. He was careful enough to say that some controls could be necessary in order to avoid substance abuse. Nonetheless, he thinks that cannabis use can stop being a problem through legalization. During his presidency, he supported multiple initiatives in the matter.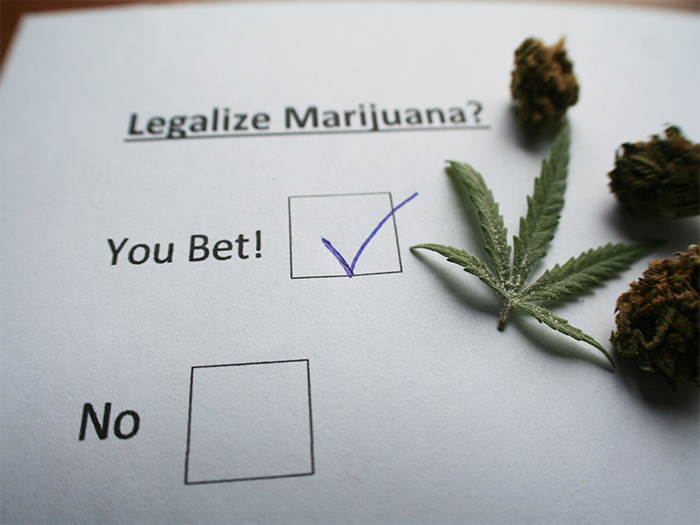 Senator Rand Paul, who ran for President in 2016, State Senator Margaret Rose Henry, Senator Elizabeth Warren, Representative Sam Farr, and Representative Maurice Hinchey, among others that weren't considered into the highest ranks on the NORML's report, are pro-cannabis politicians that have been actively promoting the legalization of both medicinal and recreational marijuana use.
Gary Johnson, who was the Libertarian Party nominee in 2012 and 2016 Presidential Elections and former governor of New Mexico, didn't make very clear his stance regarding cannabis but it was endorsed by the United States Marijuana Party in 2012.