Roach Paper Artist Cliff Maynard
Cliff Maynard's tagline is that he does "Recycling on a Higher Level." While it's technically true, it's also a major understatement. He makes exquisitely detailed fine art mosaics, but instead of using broken tiles or colored glass, Maynard works exclusively with roach papers on canvas. Over the last 15 years, he has become widely revered in cannabis circles and hopes to gain recognition in the traditional art world.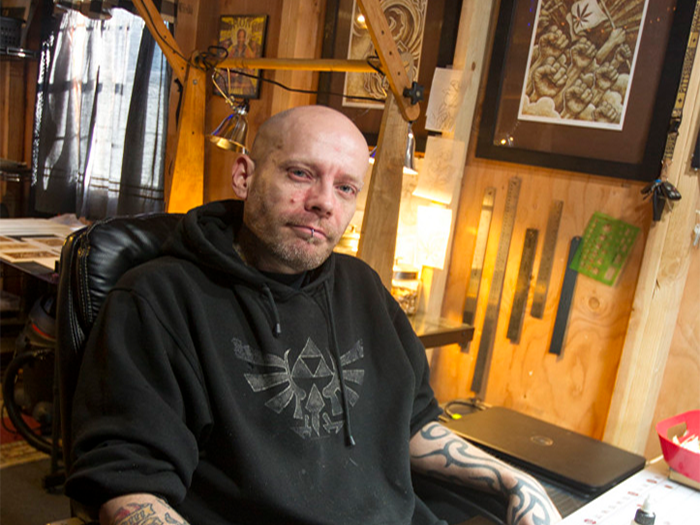 The idea for roach paper artwork came into Maynard's head due to an art class assignment: make a mosaic out of magazine clippings. He decided to roll a fifth-generation joint for creative aid. "I had no money for anything, so I broke open my roaches—because in that situation you save your roaches until you have no pot and then you smoke them… And on one side of me are these magazine clippings, and on the other side are bits and pieces of joints. It was like a Reese's Peanut Butter Cup moment, where I looked and was like, 'Hey, chocolate! Hey, peanut butter! Yum!'" Maynard's first project: a Jesus portrait completed with roaches saved up by his father. It took 100 hours of work. Shortly after this and a couple other mosaics, he took a 10-year hiatus from roach art to run his tattoo studio before returning to the medium.
Cliff Maynard has gone on to create likenesses of Jerry Garcia, John Lennon, Snoop Lion, and many other icons. He doesn't limit himself to portraits, either. Much of his work is religious and/or political in nature. To create an intricate depiction of the United States Constitution, he used roach paper donated from all 50 states. Each piece takes 15-25 hours, and curious fans can watch time-lapse videos of their creation on his Facebook page. He uses an exact-o knife to cut the papers into tiny strips and shapes and uses their variety of colors to create light and shade. Layering the roach papers gives the artwork dimension and, interestingly, cheap brands give the best result. Says Maynard, "It's a lot like working a jigsaw puzzle but each 'piece' represents a moment in time shared by friends."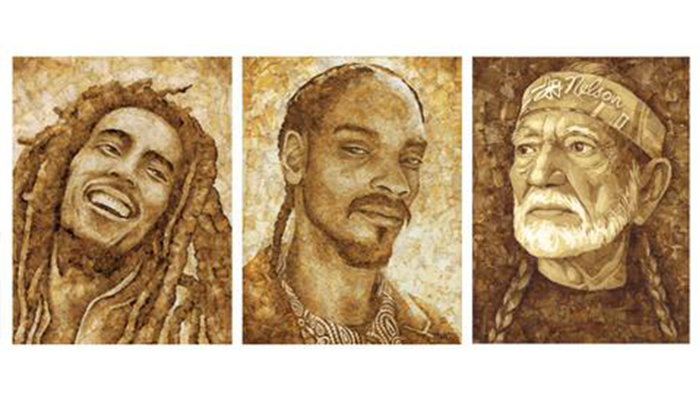 Over his career as an artist, Cliff Maynard has been featured in Cannabis Culture, Skunk, Nug, and West Coast Cannabis magazines and created an official poster for the 2009 Seattle Hempfest. He has also worked for growing expert Tom Lauerman. He has dreams of opening up a cannabis-friendly tattoo shop in Vancouver, Washington: Chronic Inc. But while he appreciates the accolades he has earned thus far, he admits it is difficult to make money promoting his art to the cannabis crowd. He hopes to show in fine art galleries in the future, and is trying to find the right market to break into. He hopes that as cannabis is becoming accepted by mainstream society, his artwork will, too. "People at festivals, they'll say 'Oh, that's really cool' — but then they spend their money on pipes and things. I want this to be considered as serious art."